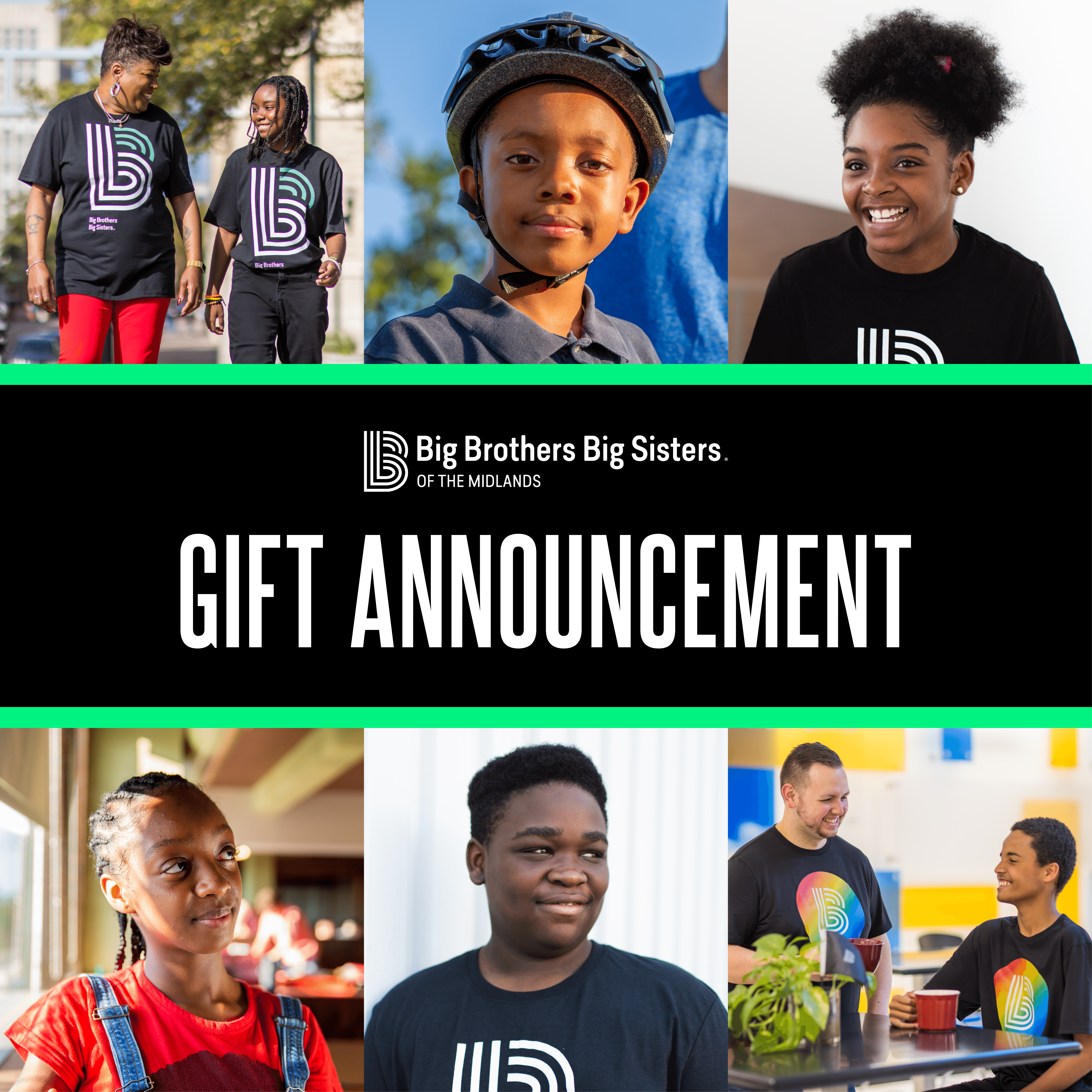 Big Brothers Big Sisters of the Midlands Receives Donation from Philanthropist MacKenzie Scott to Empower Youth in Omaha metro
OMAHA, NE, May 31, 2022 – Big Brothers Big Sisters of the Midlands announced that it has received a $2.9 million gift from philanthropist MacKenzie Scott, who made a commitment in 2020 to give back a majority of her wealth to community organizations. The gift supports the organization in furthering its mission to ensure young people have access to powerful mentoring experiences that empower them with a plan for their future and a mentor whose impact lasts a lifetime.
 "Mentoring is an integral and vital part of preparing youth for a bright future, especially after such an unprecedented time," shared Marnie Jensen, Big Brothers Big Sisters of the Midlands Board Chair, "The setbacks our youth, volunteers, and staff faced from the pandemic were certainly challenging, but we are excited to utilize this gift so that we can continue to meet and solve those challenges head-on. With dozens of Littles waiting for a mentor, we hope to support these youth and all youth in our community by providing a strong circle of support."
In particular, the gift will help the organization launch new strategic initiatives and programming to reach more youth; strengthen efforts to continue delivering high quality programming committed to justice, equity, diversity, and inclusion; and invest in the long-term sustainability of its service in the Omaha/Council Bluffs community.
"This gift serves as a testament to the importance of investing in mentorship to build and strengthen communities. Most importantly, as we face a critical need to support young people, we hope this gift inspires more people to become mentors," shared Nichole Turgeon, CEO of Big Brothers Big Sisters of the Midlands, "It takes a village to ensure young people have the encouragement and opportunity to reach their full potential and this gift encourages those already involved with BBBS feel more confident about their impact."
Along with her team of expert advisors, Scott has shared publicly that they identify organizations, "with strong leadership teams and results, with special attention to those operating in communities facing high projected food insecurity, high measures of racial inequity, high local poverty rates, and low access to philanthropic capital.
"This gift will be transformative for Big Brothers Big Sisters of the Midlands and the work they do in our community," said Shawna Forsberg, president and CEO of United Way of the Midlands. "We are so excited for our friends at BBBS, and know these additional funds will make a tremendous difference for young people across our metro."
The gift was unsolicited, but Scott has previously shared publicly about her team's approach to giving, "We do this research and deeper diligence not only to identify organizations with high potential for impact, but also to pave the way for unsolicited and unexpected gifts given with full trust and no strings attached. Because our research is data-driven and rigorous, our giving process can be human and soft."
There are 233 Big Brothers Big Sisters affiliates nationwide. Gifts from MacKenzie Scott were received by a total of 38 independent Big Brothers Big Sisters affiliates and Big Brothers Big Sisters of America, totaling $122.6M.  
To learn more about Big Brothers Big Sisters of the Midlands and to get involved as a mentor, volunteer, donor, or community partner, visit www.bbbsomaha.org
                                                                          # # #