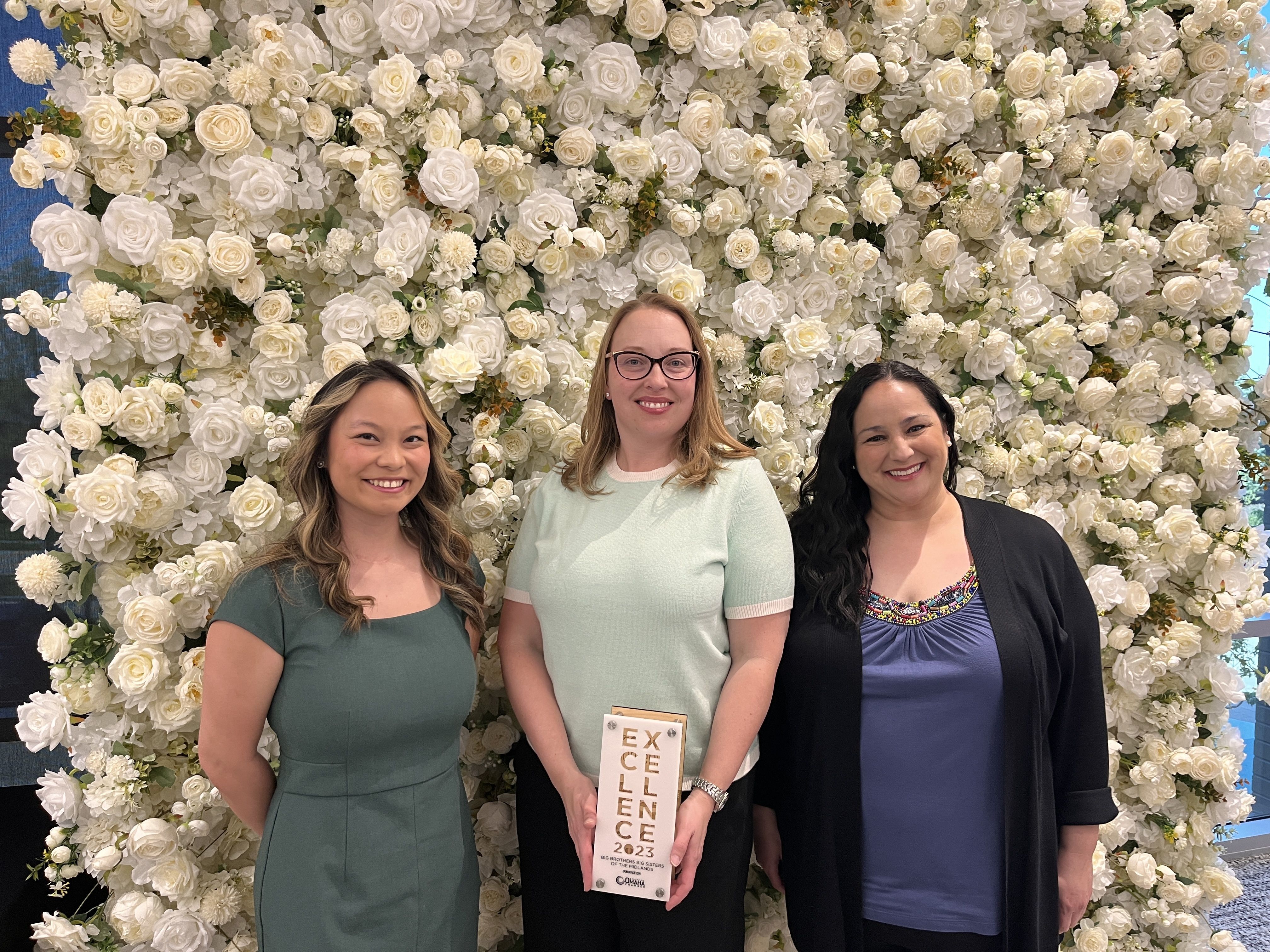 Big Brothers Big Sisters of the Midlands Named
Designee Of Two Major Workplace Awards
(OMAHA, Neb.) May 3, 2023—On May 1, Omaha-based Big Brothers Big Sisters of the Midlands (BBBSM) was announced as a recipient of a Greater Omaha Chamber 2023 Business Excellence Award in Innovation. The organization was also recently named to The NonProfit Times list of Best Nonprofits to Work for in 2023.
The Omaha Chamber Business Excellence Awards are part of an annual tradition recognizing area organizations in four categories: Leadership, Innovation, Philanthropy, and Sustained Excellence. Less than 20 local organizations were identified as award recipients this year out of more than 70 nominated. BBBSM was also an award recipient in 2021.
"Thriving communities rely on businesses to drive innovation, generate employment opportunities, and foster social connections," said Tim Burke, interim president and CEO of Greater Omaha Chamber, in a May 1 announcement. "Attributing success to hard work and dedication, we proudly recognize the 17 organizations being honored today as more than just excellent—they are truly exceptional."
"It's an incredible honor to receive a Business Excellence Award from our local Chamber," BBBSM CEO Nichole Turgeon said. "This award reflects our efforts to strengthen our programming for the families and community we serve, especially as we continue emerging from the recent pandemic. Following our Big Recovery mentorship campaign in 2021, we added a new Family Resource Coordinator and created a position, BIG Futures Program Coordinator, to help develop the new BIG Futures program. These additions will help develop life skills for young adults while cultivating relationships with community organizations, partners, providers, and agencies to ensure families have equitable access to the appropriate basic needs."
In April, BBBSM was named on the list of Best Nonprofits to Work for in 2023 by The NonProfit Times, ranked 13th overall and 9th among small nonprofits. The organization also made last year's list when they were ranked 30th. Selection of honorees is a months-long process, with The NonProfit Times partnering with Best Companies Group to vet organizations' applications. Assessment areas included communication, job satisfaction, work environment, culture, pay, and benefits. Some top-10 key drivers included:
Employees' feeling of being valued.

Confidence in organizational leadership.

Enjoyment of the work.

Career opportunities.
"Some of the factors recognized by The NonProfit Times are our paid sabbaticals for employees reaching longevity milestones starting at eight years of service; our monthly "Talk About It" sessions to discuss various topics related to diversity, equity, and inclusion; and our service to the community," Turgeon said. "It is important to ensure our team members feel valued and appreciated."
To learn more about Best Nonprofits to Work for in 2023 or The NonProfit Times, visit https://thenonprofittimes.com/the-nonprofit-times-digital-edition/
The mission of the Greater Omaha Chamber is to champion a thriving business community and a prosperous region through visionary leadership and collaboration. For more information on Omaha Chamber, visit omahachamber.org.