Parent/Guardian of the Year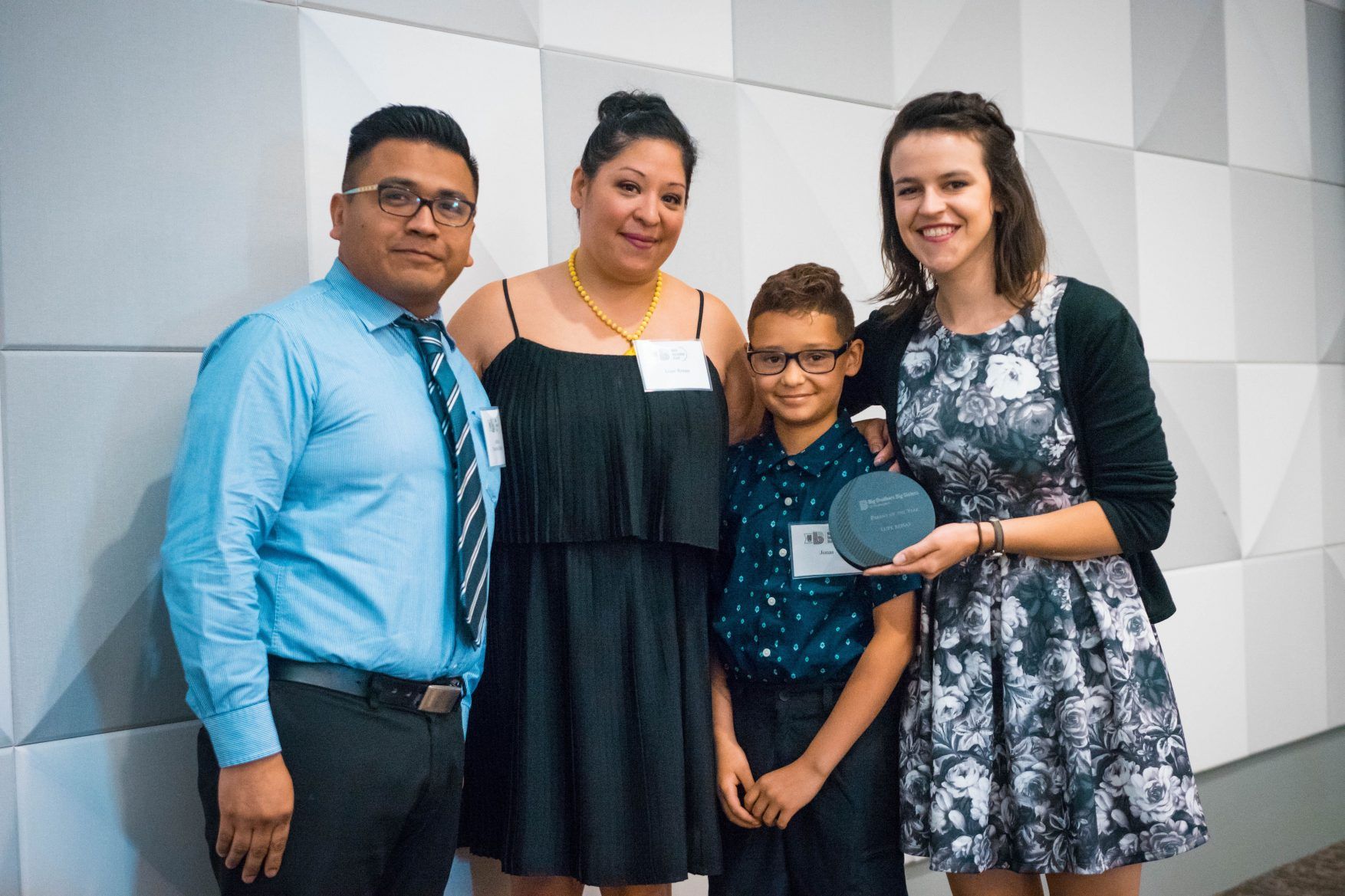 By Carlie Boswell, Enrollment and Match Coordinator
On June 1st, Big Brothers Big Sisters held our annual Match Appreciation Brunch. This is an event where we are able to give thanks to the Littles, Bigs and family members that make this program amazing! Along with our usual awards, we recognized the "Little" high school graduates and celebrated the agency's 60th anniversary.
The following awards were given out:
Corporate Partner of the Year: First Data
Nebraska Big Brother of the Year: Troy Romero
Big Brother of the Year: Michael Kilburn
Big Sister of the Year: Michelle Schaller
Big Couple of the Year: Autumn & Luke Henkenius
Parent/Guardian of the Year: Lupe Rosas
We were able to visit with Lupe, Parent/Guardian of the Year, a little more and discuss how her involvement has really benefitted her son's match. Parents/Guardians are essential to matches having positive outcomes. Sometimes we do not think about the impact they have on their child's match. Lupe really demonstrates how a good relationship between parents/guardians and Bigs can have a huge impact.
Why did you initially want Jonas to have a mentor?
I wanted to get Jonas a mentor to help him create another relationship he could count on. I wanted him to see what it was like to have a safe, healthy relationship with someone that is not family. I wanted him to have someone in his life that planned on being there for the rest of his life or until they decided to part ways. I was hoping for a life-long friendship for him. Jonas is raised by mostly women, so a guy relationship was important to me for him to have.
What do you feel you have gained from their match?
I believe we have gained so much. We have a new family member. That is the best way to describe it. Adrian [Jonas's Big] is a new connection that he [Jonas] gets to go and do his thing with. No worries, judgment or pressure. He and Adrian just get to hang out and have fun. I gain the knowledge that Jonas is with someone safe and who has his best interest at heart. He also wants Jonas to grow, have fun and learn new things. Adrian is excited for Jonas's growth and the experiences he gets to share in.
As he gets older, what do you hope Jonas learns from having a mentor?
I want Jonas to learn about giving back when and where you can. And, that there are all kinds of ways to make a change in someone's life. There are so many other things he can get out of his match, like learning to keep his word, how important his word is to someone else and how to be reliable and responsible to those you give your word to. Being dependable, following through and creating friendships also.
What advice would you give to parents/guardians looking to get a mentor for their child?
To any parent on the fence, I would say…yes, it is very scary with so many unknowns because you are not in control of the match; however, if you just take a breath, have a little faith and take the leap your child will gain so much. The BBBS organization is a great organization filled with individuals that really do care for your child (children) and want nothing but the best for them. The smiles and relationship that your child and you will gain is priceless. You will definitely feel like this a win for you as a parent!