St. Patrick's Day Parade with BBBSM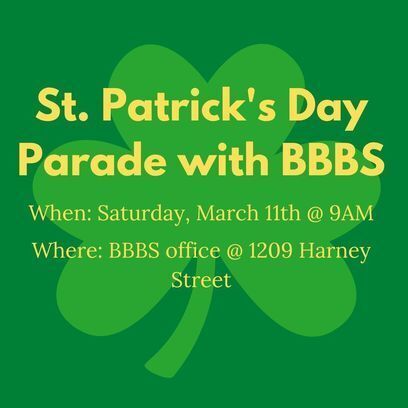 Celebrate St. Patrick's Day with BBBSM by walking in the 2023 St. Patty's Day Parade on Saturday, March 11th. We will meet at our office at 1209 Harney Street between 9-9:30 AM for a small breakfast, and to pick-up supplies. The parade will start at 10 AM. Don't forget to wear green and dress warmly.
This event is open to matches, families, and community members.
This event is in partnership with the Ancient Order of Hibernians. They need help distributing Ireland flags and with clean up post-parade. Up to 20 matches can volunteers to help them out! You would hand out flags until 9:50 AM and then meet BBBS at the parade spot. This would count towards volunteer hours for you and your Little!
Please choose "Parade Volunteer" at checkout if you would like to volunteer. Please select "Parade Participant" at checkout if you do not plan on volunteering. RSVP using the button below.