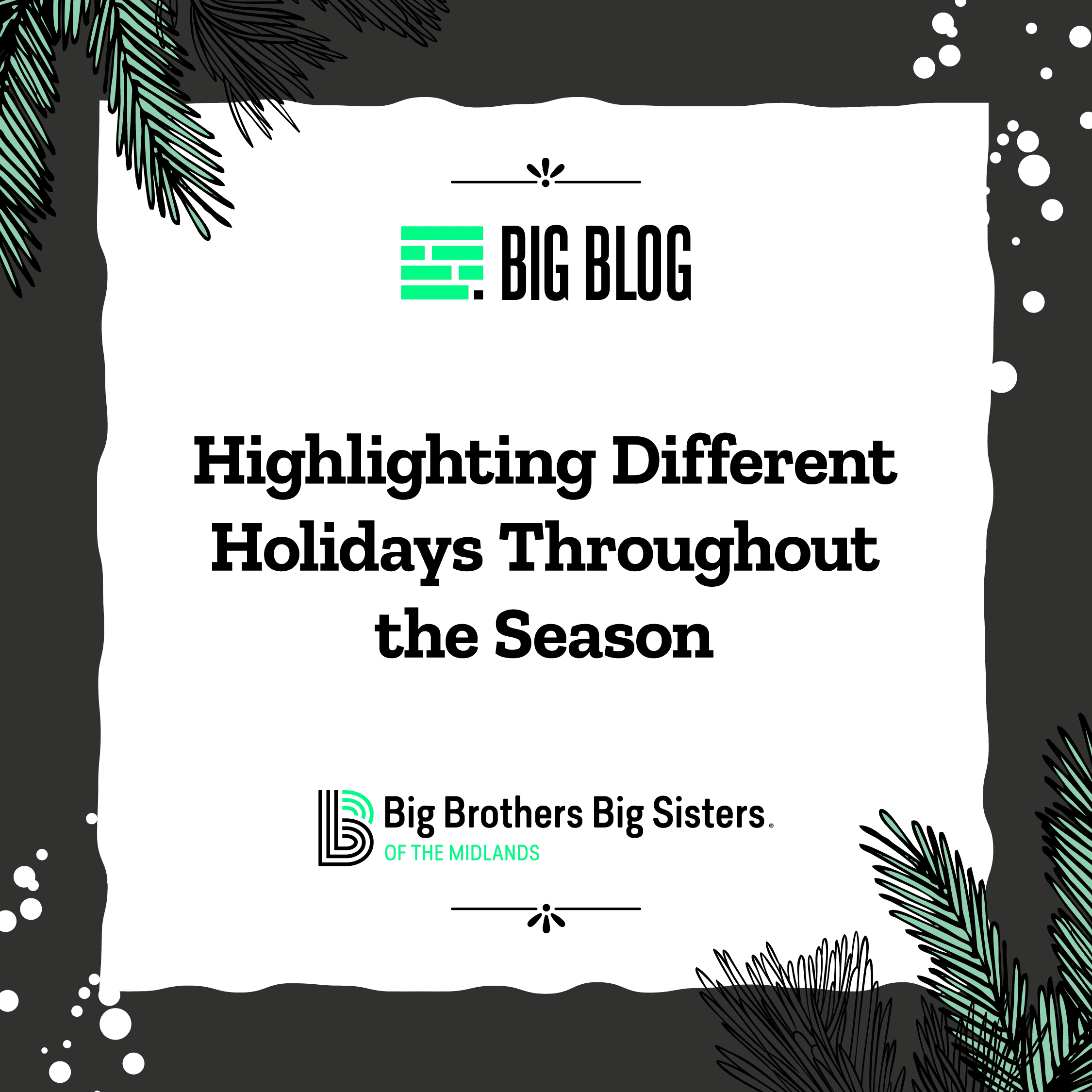 Season's Greetings from Big Brothers Big Sisters of the Midlands! With the holiday season underway, we'd like to highlight some of the holidays happening throughout the month of December. Below are some of the upcoming holidays, as well as a fun fact of two that you may not have known about each one.
Hanukkah – Hanukkah, is an eight-day Jewish celebration that commemorates the re-dedication of the Second Temple in Jerusalem following the Maccabean Revolt. During the re-dedication, there was only enough untainted oil to keep the menorah's candles burning for one day, yet the flames continued to burn for eight nights. Today, celebrations revolve around lighting the menorah. On each of Hanukkah's eight nights, a candle is added to the menorah. The ninth candle, called the shamash, is used to light the others. Typically, blessings are recited and traditional foods such as latkes (potato pancakes) and sufganiyot (jam-filled donuts) are eaten.
Christmas – In Christianity, Christmas day celebrates the birth of Jesus Christ. Whether the day is celebrated for its religious reason or as a cultural celebration, typical Christmas traditions in America may include decorating Christmas trees, leaving out milk and cookies for Santa Claus, and dreams of snowy landscapes. In Iceland, the capital city Reykjavik turns into a winter wonderland with its Christmas market, and children are visited by not one, but thirteen Santas, known as the Yule Lads. One arrives each night in the thirteen days before Christmas, leaving small gifts in shoes left in window sills.
Boxing Day – Taking place on December 26, Boxing Day is typically only celebrated in a few countries. Originating in the United Kingdom, the day celebrate when the alms box (a collection box for the poor often kept in churches) was opened and its content was distributed. Boxing Day has now become a public holiday in the United Kingdom, Canada, Australia, and New Zealeand. In England, soccer matches and horse races often take place on Boxing Day.
Kwanzaa – Kwanzaa was created by Dr. Maulana Karenga in 1966 by combining several African harvest celebrations. The name Kwanzaa comes from the phrase "matunda ya kwanza" which means "first fruits" in Swahili. Though unique to each family, celebrations often include songs and dances, storytelling, poetry reading, and a large traditional meal. On each of the seven nights, families gather and light a candle on the Kinara, with each candle representing one of the seven principles of Kwanzaa. A large feast, called a Karamu, is held on December 31.
Ōmisoka – Ōmisoka, New Year's Eve, is considered the second-most important day in the Japanese tradition as it is the final day of the old year. Families gather one last time to have a bowl of toshikoshi-soba or toshikoshi-udon, both of which are long noodles that symbolize crossing over from one year to the next.
To learn more about the upcoming holidays, visit: https://worldstrides.com/blog/2015/12/december-holidays-around-the-world/