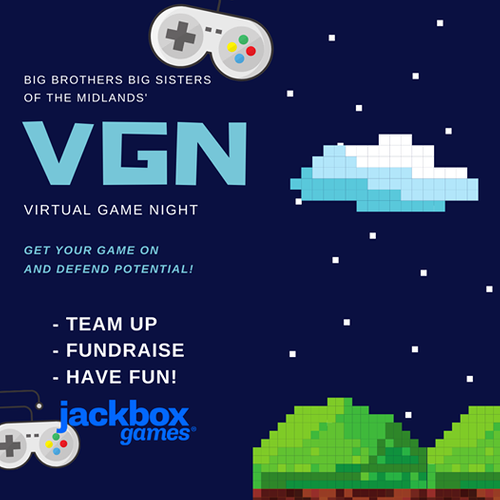 WHAT IS VIRTUAL GAME NIGHT?
We missed your wonderful faces at Bowl For Kids' Sake, so let's get those game faces on and defend potential this summer! Our Virtual Game Night (VGN) is here to ensure our mission can create positive change in our community right now. You already know the process - gather your team, fundraise and have fun!
Join us July 30th, 31st or August 1st for an evening of Jackbox Games, prizes and plenty of laughter.
SPONSOR VIRTUAL GAME NIGHT
A Virtual Game Night sponsorship offers companies like yours a unique opportunity to engage your employees and put your company's name in front of over 16,000 community members. Sponsorship levels range from $350-$10,000! Contact Lauren at lmohatt@bbbsomaha.org or 402-905-3331.
FOR MORE INFORMATION
For more information on how you or your company can participate in Virtual Game Night, please contact...
Lauren Mohatt
Assistant Director of Development
Phone: 402-905-3331
Email: lmohatt@bbbsomaha.org