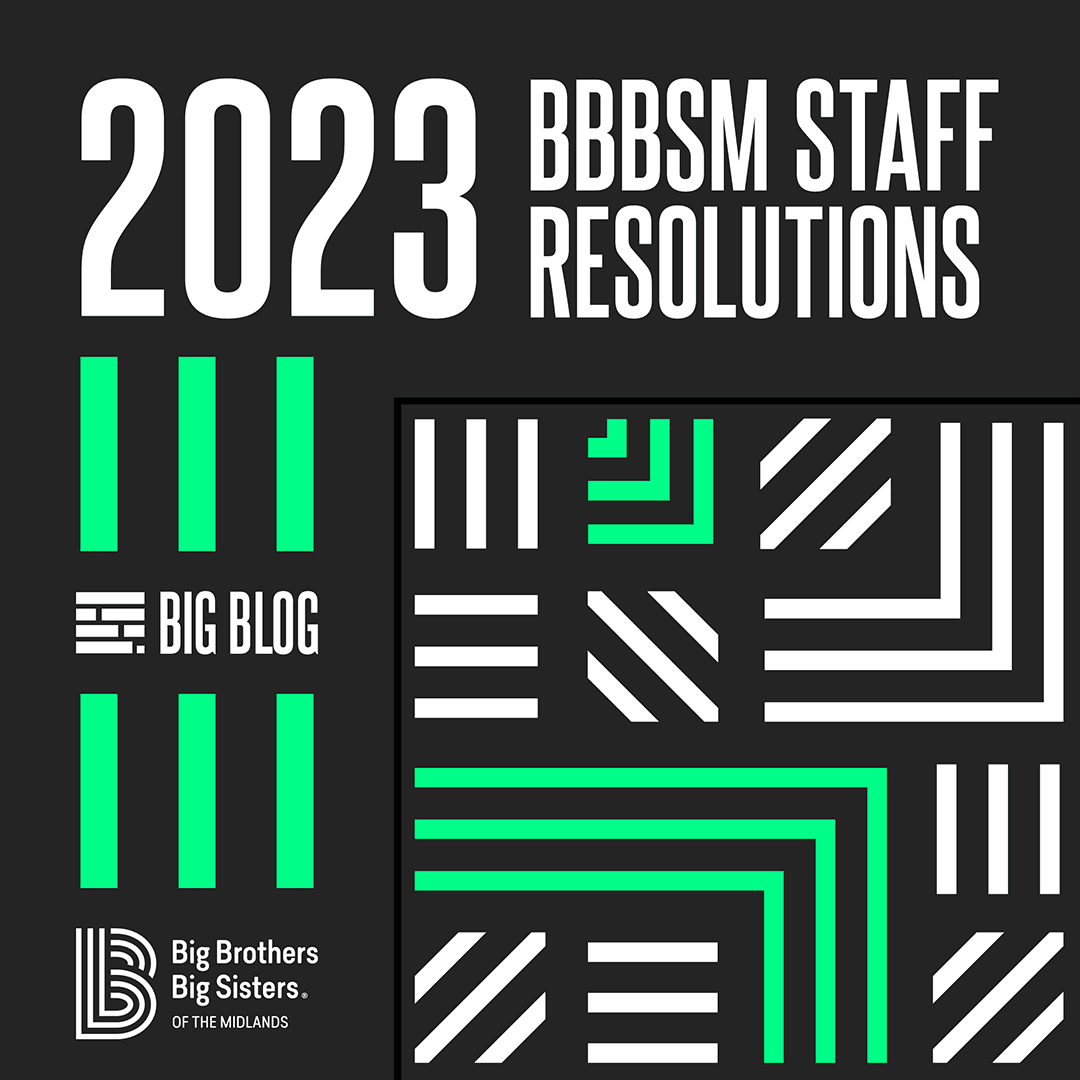 The New Year is here and BBBSM staff are ready for new opportunities in the office and in their personal lives. Check out our New Year's resolutions, 2023 plans and more!
Brittany, Family Resource Coordinator - My New Year's resolution is to get closer to zero waste. My family is going to start composting with Hillside Solutions. They give you an allowance for soil for gardens, etc. in the spring—we will donate ours to local community gardens. We have already started using beeswax cloth to replace saran wrap/tin foil. We use reusable produce bags instead of the thin plastic ones. We recycle as much as possible (glass, micro plastics in the orange bags, etc.)
Abbey, Senior Match Support Specialist - My goal is to always set aside time for home projects since it's my passion!
Hannah, Activities Coordinator – In 2023, I want to visit two national parks, save $$, and read 40 books! I'm going to Mexico City and Aguascalientes this year for a friend's wedding.
Alejandra, MentorU Coordinator - I have a few New Year's resolutions: read one book a month, reduce my screen time, create and maintain a self-care schedule (gym, healthy food, healthy habits, mental health, yoga and walks), travel to Europe with my husband, and prioritizing myself, especially my mental health.
Emma, Marketing & Outreach Manager – Read more books and try new restaurants!
Sarah, Foster Care Enrollment Coordinator - Plans for 2023: Start my PhD at UNO & travel more this year!
Chelsea, Recruitment Coordinator - I'm working on being more present and to live more in the moment.
Sam, MentorU Program Manager - My resolutions are to use more PTO, read 60 books, and try a new recipe each month.
Jeany, Senior Match Support Specialist – Visit Ireland and Scotland this summer!
Steven, Director of Enrollment - I volunteered to join a small task force of my cousins to put together a family summer cookout back in my home state. I might also set up a small solo trip to Seattle at some point in the year.
Nichole, President/CEO - I am hoping to become fluent in French this year!
Olga, Latino Mentoring Coordinator - This coming year I'm going to continue to work on rehabbing my new knees. So far, so good. We bought a 'new to us' house last year. I am happy to report that we are all moved in. There are some projects that I need to work on like refreshing the gardens and finishing the basement. I'm hoping to go to Texas in June to visit my friends. They have an annual croquet tournament which is a great time to visit especially since it's been on hiatus over the past three summers. The competition is fierce! We're hoping to go to Wisconsin for the Nebraska/Wisconsin football game at Camp Randall and for Christmas.
Morgan, Graphic Designer & Content Creator - This year I'm working on playing guitar and singing again at some coffee shops around town. I'm also planning a trip up to Canada over the summer with my partner!
Tara, Finance Director - I plan on refurnishing and reorganizing (electronically and physically) my at home office.