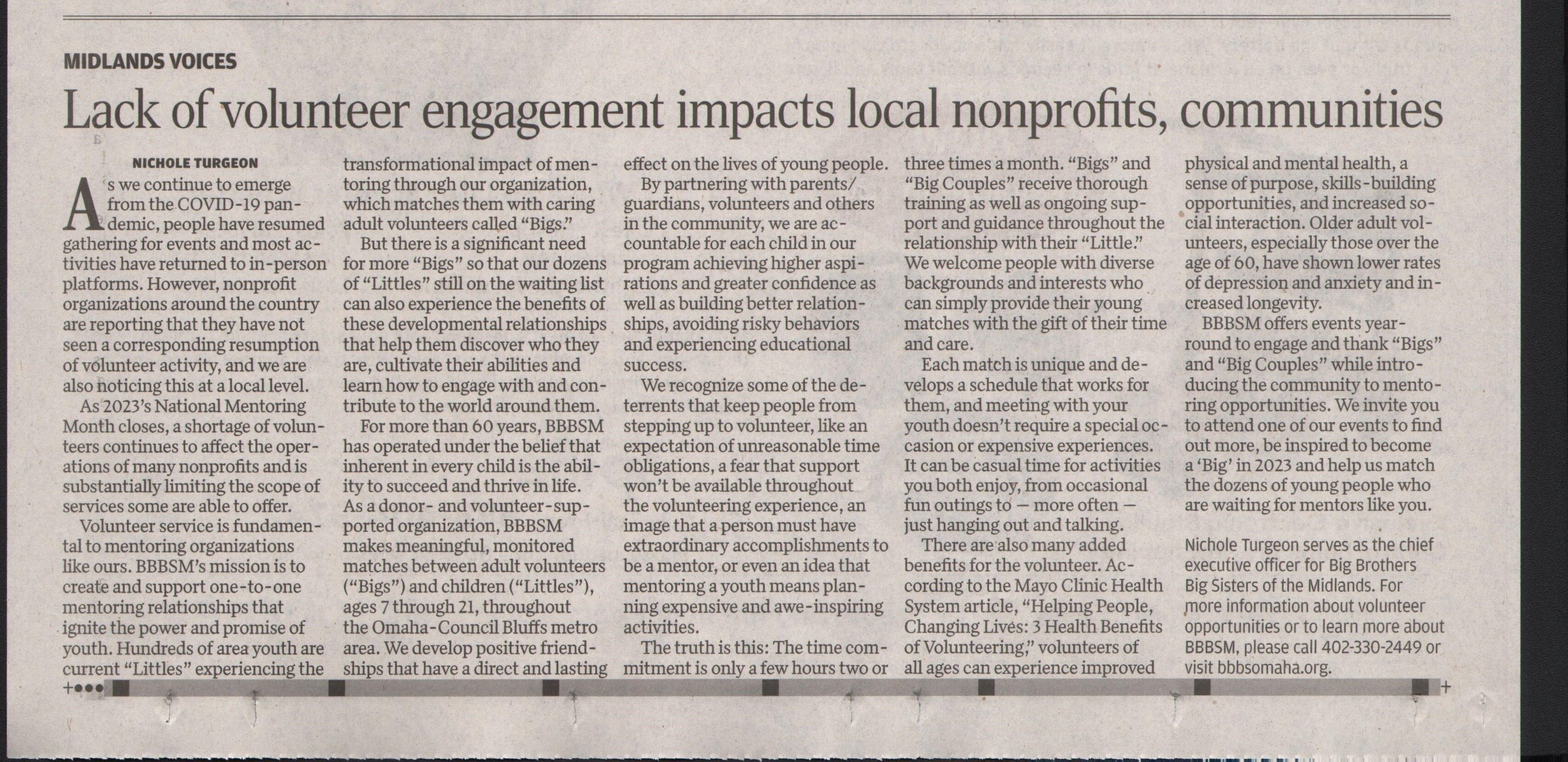 Lack of Volunteer Engagement Impacts the Success of Local Nonprofits and Those They Serve Within Our Community
Nichole Turgeon serves as the Chief Executive Officer for Big Brothers Big Sisters of the Midlands (BBBSM).
As we continue to emerge from the COVID-19 pandemic, people have resumed gathering for events and most activities have returned to in-person platforms. However, nonprofit organizations around the country are reporting that they have not seen a corresponding resumption of volunteer activity, and we are also noticing this at a local level. As 2023's National Mentoring Month closes, a shortage of volunteers continues to affect the operations of many nonprofits and is substantially limiting the scope of services some are able to offer.
Volunteer service is fundamental to mentoring organizations like ours. BBBSM's mission is to create and support one-to-one mentoring relationships that ignite the power and promise of youth. Hundreds of area youth are current "Littles" experiencing the transformational impact of mentoring through our organization, which matches them with caring adult volunteers called "Bigs." But there is a significant need for more "Bigs" so that our dozens of "Littles" still on the waiting list can also experience the benefits of these developmental relationships that help them discover who they are, cultivate their abilities and learn how to engage with and contribute to the world around them.
For more than 60 years, BBBSM has operated under the belief that inherent in every child is the ability to succeed and thrive in life. As a donor- and volunteer-supported organization, BBBSM makes meaningful, monitored matches between adult volunteers ("Bigs") and children ("Littles"), ages 7 through 21, throughout the Omaha/Council Bluffs metro area. We develop positive friendships that have a direct and lasting effect on the lives of young people. By partnering with parents/guardians, volunteers and others in the community, we are accountable for each child in our program achieving higher aspirations and greater confidence as well as building better relationships, avoiding risky behaviors and experiencing educational success.
We recognize some of the deterrents that keep people from stepping up to volunteer, like an expectation of unreasonable time obligations, a fear that support won't be available throughout the volunteering experience, an image that a person must have extraordinary accomplishments to be a mentor, or even an idea that mentoring a youth means planning expensive and awe-inspiring activities.
The truth is this: The time commitment is only a few hours two or three times a month. "Bigs" and "Big Couples" receive thorough training as well as ongoing support and guidance throughout the relationship with their "Little." [Each match is unique and develops a schedule that works for them, and meeting with your youth doesn't require a special occasion or expensive experiences. It can be casual time for activities you both enjoy, from occasional fun outings to—more often—just hanging out and talking.
There are also many added benefits for the volunteer. According to the Mayo Clinic Health System article, "Helping People, Changing Lives: 3 Health Benefits of Volunteering," volunteers of all ages can experience improved physical and mental health, a sense of purpose, skills-building opportunities, and increased social interaction. Older adult volunteers, especially those over the age of 60, have shown lower rates of depression and anxiety and increased longevity.
BBBSM offers events year-round to engage and thank 'Bigs' and 'Big Couples' while introducing the community to mentoring opportunities. We invite you to attend one of our events to find out more, be inspired to become a 'Big' in 2023 and help us match the dozens of young people who are waiting for mentors like you.
For more information about volunteer opportunities or to learn more about BBBSM, please call our offices at (402) 330-2449 or visit us online at bbbsomaha.org.