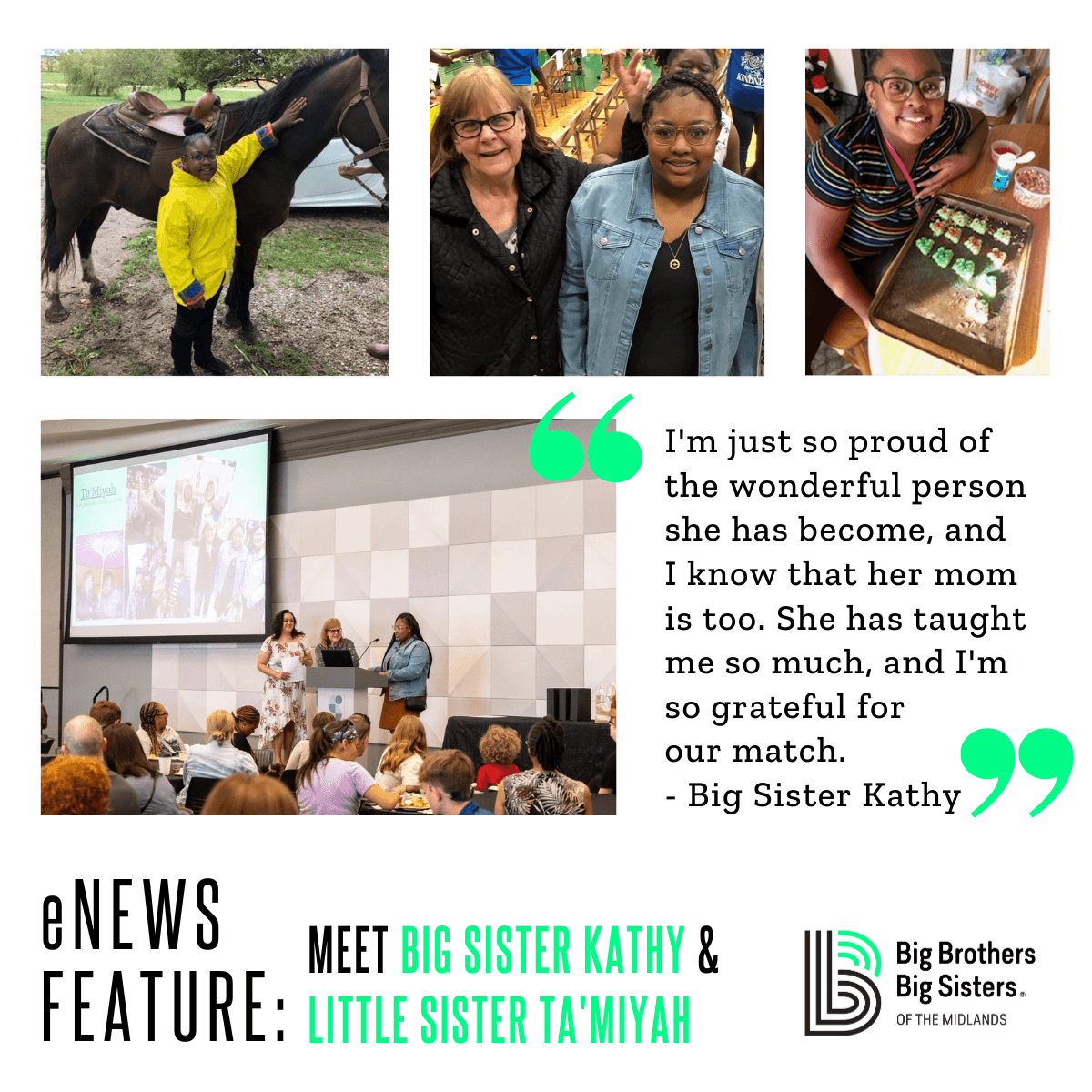 Meet Big Sister Kathy and Little Sister Ta'Miyah! This dynamic duo is celebrating five years together this week. To top off the celebration, Little Sister Ta'Miyah was awarded Little of the Year at our Match Appreciation Celebration last month.
Read more from Big Sister Kathy about her time with Ta'Miyah below...
My first outing with Ta'Miyah was going for ice cream. I knew it was a good match from the start. I told her banana splits were my favorite. She said she had never had one before but would like to try one. I'm not sure she loved it, but she really liked the little boat it came in! I was just happy that she was willing to try something new and trusted my suggestion on our first meeting.





She has met all of my family and a lot of my friends. They're all very impressed by her. They always ask about her, which makes me proud that she leaves an impression on them.
Ta'Miyah has grown into a very mature and caring teenager. She is very interested in my family and friends. I don't hesitate to take her anywhere or be in the company of anyone I know because she is pleasant to everyone. If we happen to go shopping, she never asks for anything for herself but is always thinking of others and manages to pick out the perfect gifts for her mom and sisters.





One night we had plans to have dinner at a restaurant and then go to a church Christmas pageant. It was icy, and I fell outside the restaurant and broke my wrist. Ta'Miyah was so comforting. She didn't panic and helped me gather my purse and get to the car to call for help. We spent a few hours in the emergency room, and she never complained about missing dinner or the show.



We've spent a lot of time together in the kitchen. She's learned to make cookies, fudge and cakes. She even made an apple pie from scratch. She made the crust and peeled and sliced the apples.
One year around Thanksgiving, I was stressed trying to work and prepare dinner for my family. She taught her mom how to make pie crust, and they made me a couple at home to help save me time. She has become quite a baker and has made several cakes and desserts for her family at home.





I'm just so proud of the wonderful person she has become, and I know that her mom is too. She has taught me so much, and I'm so grateful for our match.
Your support is making a big difference!
Matches like Ta'Miyah and Kathy's are possible because of you. Thank you for helping ensure kids here in the Omaha metro are on the path to a bright future.