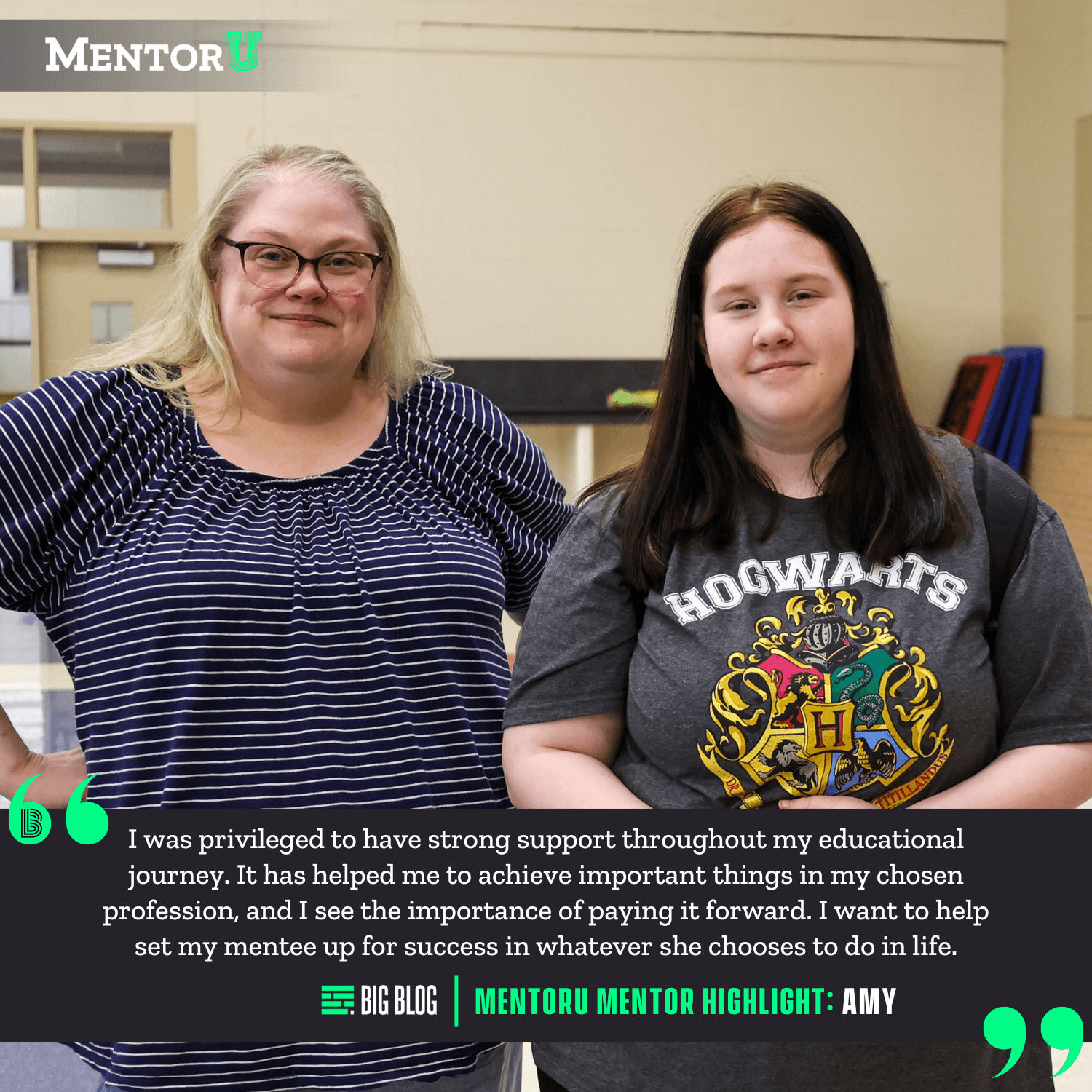 MentorU Mentor Spotlight: Amy
Amy has been a MentorU mentor for almost three academic years at Abraham Lincoln High School in Council Bluffs. Learn more about her experience in our program below!
Q: How has your volunteer experience been so far?
A: Good! I am approaching the third year with my mentee, and I am so happy I signed up to volunteer. The program itself has exceeded my expectations. It is well conceived and executed. I enjoy the monthly meetings with my mentee, where we can catch up and do fun activities together.
Q: What made you want to volunteer with Big Brothers Big Sisters of the Midlands?
A: I was privileged to have strong support throughout my educational journey. It has helped me to achieve important things in my chosen profession, and I see the importance of paying it forward. In the lyrics of the late great Whitney Houston, "I believe the children are our future. Teach them well and let them lead the way." I want to help set my mentee up for success in whatever she chooses to do in life.
Q: What has been your favorite part of volunteering so far?
A: I enjoy the monthly meetings! The program leaders are amazing. You can see the solid relationships they have built with the students. They care about their well-being and success. I love seeing my mentee in person. We have great conversations and can better connect in person vs. electronic chats.
Q: What would you tell others who are interested in volunteering?
A: I would highly recommend volunteering! I appreciate the dedication of the program leaders and how prescriptive the program is, including the different teaching modules for students, weekly chat prompts, and prescheduled monthly meetings. My job is demanding, but I have successfully carved out time in my schedule because I know what to expect and what is expected of me.
Q: Anything else you would like to add?
A: This volunteer opportunity is the right fit for me, and I hope my mentee gets as much out of the relationship as I am. I am looking forward to starting back up in the fall!
MentorU is Big Brothers Big Sisters of the Midlands' school-based program. This technology-enhanced mentoring program gives holistic support to high school students. Students learn lessons in the MentorU Classroom and message their mentors weekly on various topics related to their passions and interests. A mentor only needs 2.5 hours a month to help a student gain confidence, purpose and define what success means for them.
Volunteer enrollment is now open for the 2023-24 school year! Register today!