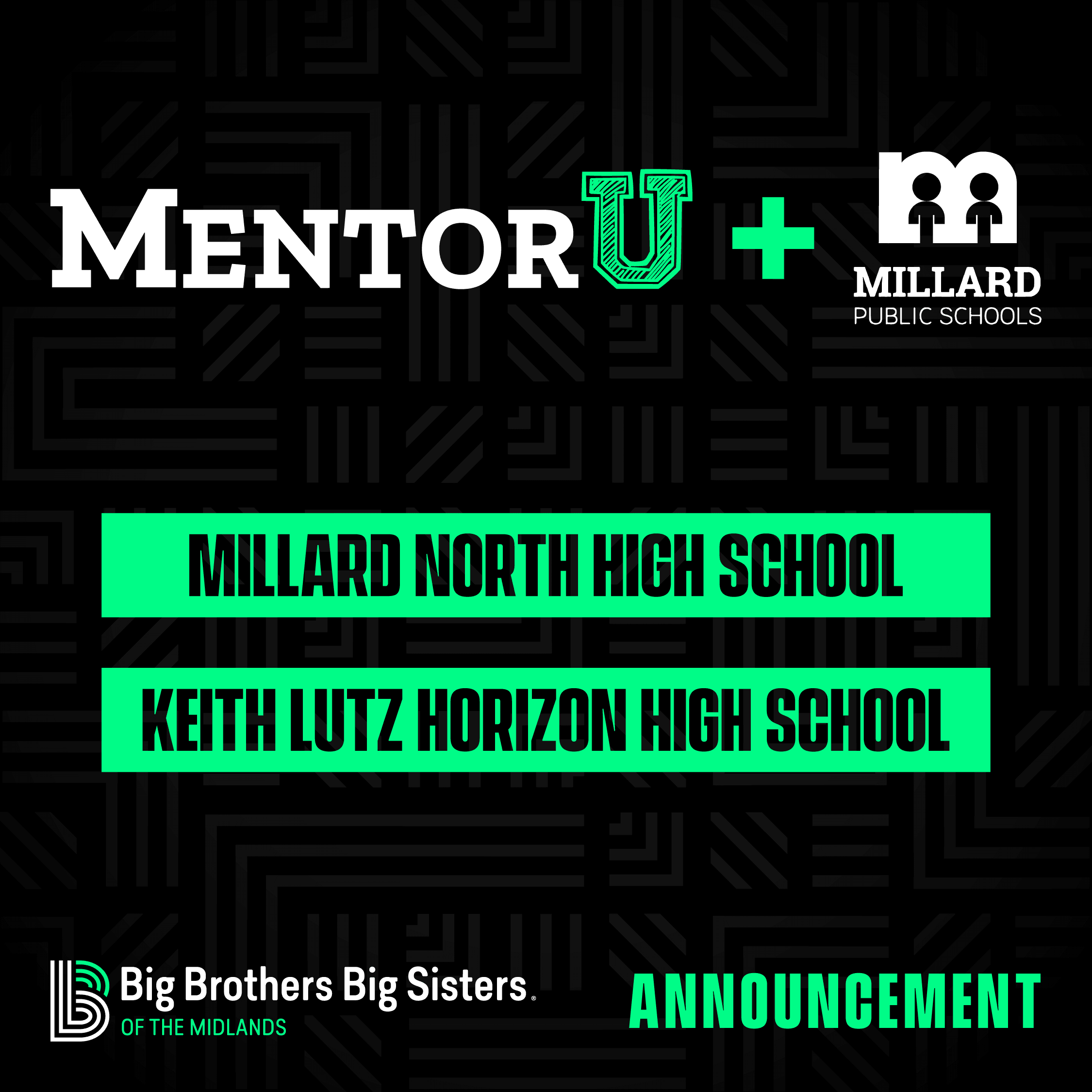 Big Brothers Big Sisters of the Midlands Announces Expansion of School-Based Mentoring Program, MentorU, in Millard Public Schools
OMAHA, NE, October 18, 2023 – Big Brothers Big Sisters of the Midlands (BBBSM) is excited to announce the expansion of their School-Based Mentoring program, MentorU, in the Millard Public Schools District. Specifically, MentorU will be at Millard North High School and Keith Lutz Horizon High School starting in January 2024.
"Our expansion into Millard Public Schools marks an exciting new chapter for MentorU. Every high school student deserves the opportunity to excel academically, discover their potential, and prepare for success beyond graduation. With our dedicated mentors, we are one step closer to making that vision a reality for even more young minds," MentorU Program Manager Sam Maxfield says.
Launched in 2021, MentorU provides vital support to high school students who face academic and personal challenges. These students are referred to and enrolled in an advisory period aimed at keeping them on the path to graduation and future success.
The program's comprehensive curriculum encompasses essential topics such as relationship building, financial planning, community involvement, college application assistance, the transition to college or career life, and more. Twice a week, Program Coordinators lead the MentorU class. For students who have chosen to be paired with a mentor, electronic communication occurs through guided prompts, fostering a meaningful mentor-mentee connection. In addition to the weekly online communication, the MentorU program encourages regular in-person meetings between mentors and mentees, scheduled once a month during the academic year. These gatherings involve engaging group activities that tie together the curriculum the students have been progressing through, reinforcing their growth and development.
MentorU has school partnerships with Abraham Lincoln High School and Thomas Jefferson High School in Council Bluffs, Iowa. Additionally, in August 2023, Ralston High School became the most recent partner.
Folks who are interested in becoming MentorU mentors can enroll at https://www.bbbsomaha.org/be-a-big/mentoru.html.