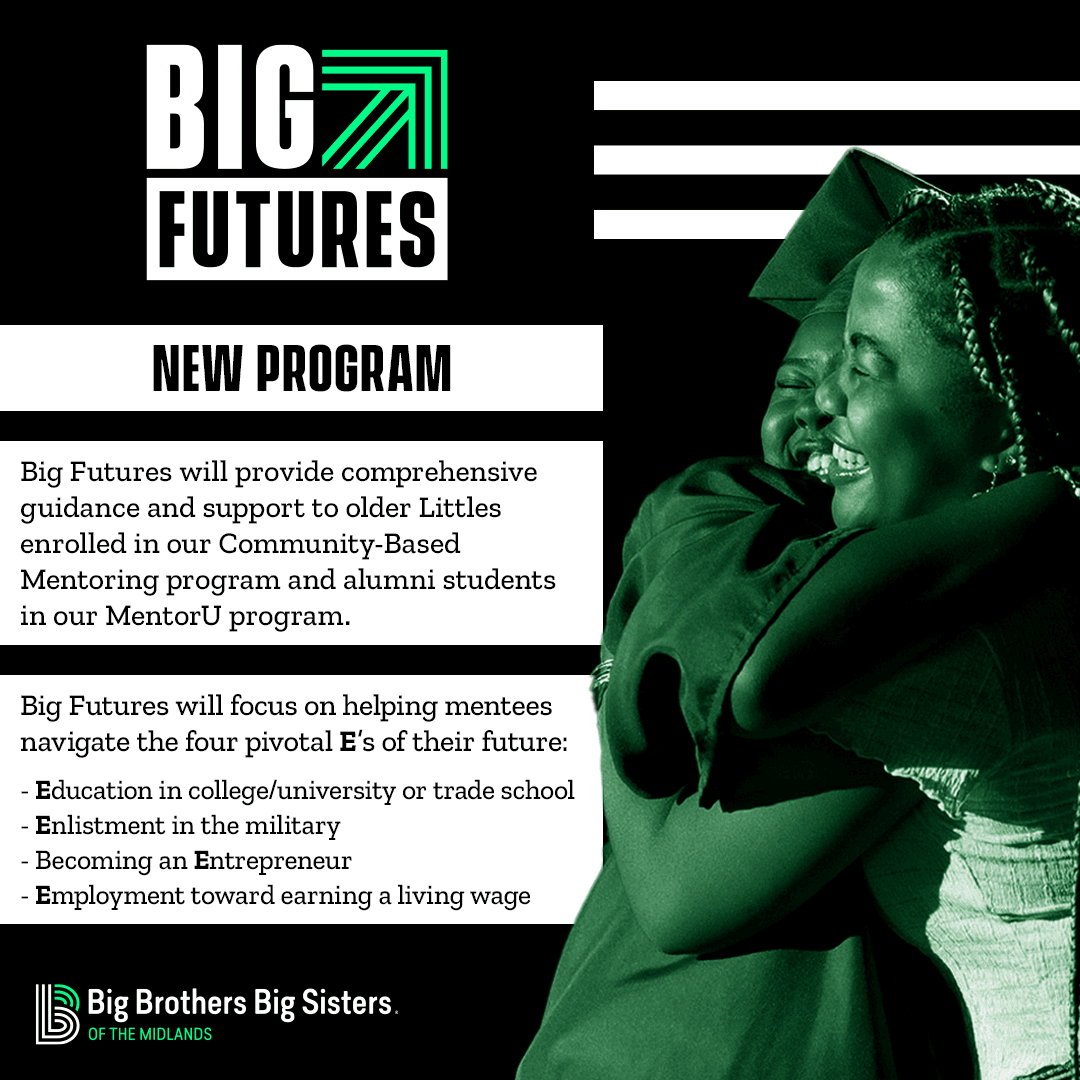 We are thrilled to announce the launch of our innovative Big Futures program, an initiative that extends our services to young adults up to age 26. This program is designed to provide comprehensive guidance and support to older Littles enrolled in our Community-Based Mentoring program and to alumni students in our MentorU program.
At the heart of the Big Futures program lies our profound commitment to helping mentees navigate the four pivotal E's of their future:
· Education in college/university or trade school
· Enlistment in the military
· Becoming an Entrepreneur
· Employment toward earning a living wage
Every young person has unique aspirations and potential, and this program will help those dreams become a reality.
So, how does the program work? Our dedicated Big Futures Program Coordinator will take a personalized, one-on-one approach to guide mentees in setting meaningful goals that align with their dreams for their Big Future. Working in close collaboration with an extensive network of community resources and business partners, they will connect mentees with professionals who are experts in their fields. Whether that be recruiters from the military, successful entrepreneurs, or contacts within colleges and universities, we aim to inspire and empower mentees, offering them insights, opportunities, and a clear path to their aspirations.
Mentees will also receive vital information about scholarship opportunities and FAFSA resources. BBBSM understands that access to education and financial aid can significantly impact a young person's future, and we are here to ensure they are well-informed and well-prepared.
In an ever-changing world, our Big Futures program stands as a testament to our unwavering commitment to the success and well-being of our mentees. Every young person deserves a bright and promising future, and with the proper guidance and support, they can achieve their dreams.